321 Tiger's Fun Stuff
---
Do you want to know, who the the weakdicks are among the ECR flyers?
Weakdick list - sorry, accessible only on german side of this homepage due to german language only!
---
321 Squadron informs the world exclusively:
Technological spinoff out of the Airbus A 380 program planned:
Unbelievable:
The Tornado PA-380 XXL ECR. The egg laying wool-milk-pig.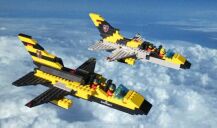 ---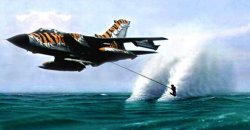 With gorgeous weather and extremely sunny conditions, timely prior the Easter holidays, this year's jetski season was opened. The Tigers use their platform here to thank their technicians for the timely and expert modifications on the hooks of the jets. In this sport, the long time low level flight experience of the crews, really pays off and - thanks to FLIR and RADAR - the whole operation is safe and sound also for the rest of the pasttime captains on lake Ammersee near Munich.

---
The pre-series version of the A380 M/ECR will land for the first time next Saturday in the course of a technical test flight, in Lechfeld. In the course of a future stationing of the brandnew super-jet, the runway will undergo a thorough renewal and widening during the summer time, to be propper sized for formation takeoffs of the A380/ECR. During this time of massive construction work, the whole wing will deploy to Manching airbase (see timetable below). The A380 M/ECR, with its 126 men /women crew and 86 tons of electronics, conducted already first touch and go landing for airfield checkout last wednesday, before it headed back home to Toulouse, France. Today, Saturday 01.04.06, depending on weather conditions, the A380 M/ECR will perform a couple of touch and go between 1000 and 1600 zulu. The population around the airfield is warned and asked to be patient concerning the jet noise on the weekend.