NATO Tiger Meet 2010
From October 4 until October 15 2010 Volkel Airbase, northeast of Eindhoven in the Netherlands was hoster of one of the top and most challenging events this year, NATO Tiger Meet which is also one of the biggest airforce exercises in Europe. Hosting unit was RNLAF 313 Squadron.
Like nearly every year also 2010 as much as possible squadrons of the NATO Tiger Community met to conduct one of the most challenging exercises for the crews as well as to extensively celebrate, keep up and build lifetime friendships and to remove national barriers.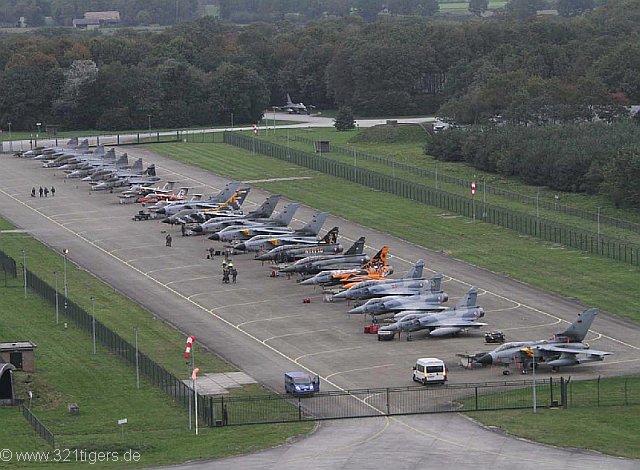 The " Safaripark" : many different aircraft types on the apron, some of them in the tiger look.
On 8 flying days 644 sorties with the more than 50 airplanes were flown. Among them all that's good and expensive: F-16, Mirage 2000, JAS-39 and of course TORNADO. After some years without a full participation this was the first time that the Lechfeld Tigers participated again with a full "load" of 3 TORNADO ECR to plan, fly and debrief missions with many international participants.

Massbrief: every morning the presence of all crews was checked and a timecheck conducted (besides many many other things)
According to their motto "Digital Tigers" the 321 Tigers had brought an jet with a special paint. Tigerjet TORNADO ECR 46+29 was covered with a digital-type motive and was given the nickname "lego bomber" by the spotters later. Read more about this tigerjet under the respective main menue item.
participating Tiger Squadrons
313 SQN
12
F-16 MLU
RNLAF Volkel, Niederlande
31 SQN
8
F-16 MLU
BAF Kleine Brogel, Belgien
338 SQN
7
F-16 MLU
RNoAF Oerland, Norwegen
EC 1/12
5
Mirage 2000
FAF Cambrai, Frankreich
EC 5/330
2
Mirage 2000
FAF Mont de Marsan, Frankreich
AG 51"I"
3
Tornado
Luftwaffe, Schleswig, Deutschland
1./JaboG 32
3
Tornado
Luftwaffe, Lechfeld, Deutschland
192 SQN
3
F-16C
TuAF, Balikesir, Türkei
211 SQN
4
Gripen
CzAF, Caslav, Tschechische Republik
591 SQN
3
Gripen
HuAF, Keczkemet, Ungarn
DTS
3
Saab 105 OE
AAF, Hörsching, Österreich
21 Gruppo
2
AB-212
ITAF, Grazzanise, Italien
221 SQN
1
Mi-24
CzAF, Namest, Tschechische Republik
1 SQN
1
E-3A
NATO, Geilenkirchen, Deutschland
335 SQN
nofly
F-16
HAF, Araxos, Griechenland (nicht fliegend)
6 SQN
nofly
F-16
Polish Air Force, Poznan, Polen (nicht fliegend)
Support Forces

| | | | |
| --- | --- | --- | --- |
| 121 ARW | 1 | KC-135 | US Ohio ANG, Rickenbaker AB, USA |
| 100 ARW | 1 | KC-135 | USAF, Mildenhall, Großbritannien |
| 334 SQN | 1 | KDC-10 | RNLAF, Eindhoven, Niederlande |
| 301 SQN | 4 | Apache | RNLAF, Gilze-Rijen, Niederlande |
| 300 SQN | 2 | Puma | RNLAF, Gilze-Rijen, Niederlande |
| | |
| --- | --- |
| | |
---
---