Tigerbaby in the land of the raising sun (central european view of the world)
Journey from Lechfeld, via Tannheim, Israel, Bahrain, Kuwait, USA, USS Constellation, Sizillie to Memmingen. With an Bavarian Police EC-135 brought back to Lechfeld, personally through the Bavarian Minister President, Dr. Edmund Stoiber.
Oktober 29 2002 the following e-mail reaches the webmaster:
Hello Tigers,
we flew Tigerbaby on the 21-10-2001 in a 3-ship of Grob G120A-I from Mindelheim (near Lechfeld) to Kerkira/Korfu (Greece). The crossing of the Alps was a lot of fun for him. We spent the night in Korfu and continued the next day to Larnaca/Cyprus with an unscheduled landing on Rhodos due to a strike in Cyprus. On the dot with upcoming darkness Baby finally landed at Larnaca where he spent 2 days relaxing in the sun on the beach. On 25-10-2002 we continued to Israel. On each leg (distance between two turns) of the ferry flight, Baby was sitting in a different airplane.
On a Military Base near Tel Aviv with 32 deg C and lots of sun Baby was welcomed by a high ranking delegaton of the IAF (Israel Airforce).
Sunday 27-10-2002 Baby then flew the first time in an IAF airplane.Within the big airshow (introduction of Grob airplanes and dismission of Pipers) he flew with a PA-18 with an Israeli pilot. Yesterday Baby flew in a F-15 during an exercise. F-16, A-4 Skyhawk and Apache Helicopter are next on the program. Baby has the chance to fly in lot more missions - we will see. Mid to end of November we are again in Israel an will then bring Baby back home. If there is sufficient time left I will take Baby along on missions with the Corsair F4U and B-25.
The logbook was always filled in properly and we aked the IAF guys in charge to sign the guest book in the logbook. Attached to this mail you find some pictures from the trip. Sorry, they are a little bit large and not edited yet.
Many greetings from Tigerbaby to the squadron
.... and of course also from me
We contact you when there are more news!
Matthias Dolderer
TANNHEIMER FLIEGER- UND
FREIZEITZENTRUM G M B H
Flugplatz
D-88459 Tannheim (www.flugplatz-tannheim.de)
Tigerbaby's pickup in Lechfeld:
Enroute to Israel:
In Jerusalem:
Level zero:
... feel like after "... ten green bottles .."
---
Email from Israel 09.12.2002:
Dear friends from Squadron 321
We send you regards and Merry Christmas and Happy New year from the Flying Academy of the Israeli Air Force (IAF). Grob's ferry pilots, Mattias and Uli, brought your Baby Tiger to Israel. The experienced Baby Tiger pilot took part in some sorties:
One of the last flights of the Piper Super Cub screening airplane at the IAF flying Academy. (To be replaced by the incredible One of the last flights of the Piper Super Cub screening airplane at the IAF flying Academy. (To be replaced by the incredible "SNUNIT"
One of the first flights of the SNUNIT 4X-DGA.
* SNUNIT is a Swallow (Schwalbe) in Hebrew - a small and fast bird, active during spring time.

We signed Baby Tiger's Log Book accordingly.

We wish to thank you again for your wonderful hospitality at your Squadron on the night of 6th October, 2002 during our night flying training.
We are attaching to this message a few pictures of Baby Tiger enjoying a sunny day in December at our air force base. We are also sending you in the bag a Patch of one of our Skyhawk (A-4) fighter and training squadrons: The symbol of a .........Flying Tiger.
P.S - Baby Tiger will return to you with Addi (Edgar) in January, who will arrive in order to fly another Grob to our country.

Best Regards

Your friends from IAF Flying Academy

Aviho, Dubi, Nir, Ori, Uri
---
Hello to Lechfeld,
today we arrived back from Tel Aviv and sent Tigerbaby again on a trip to the Middle East, because otherwise he's just sittin' around in Lechfeld the next time. There he will fly around US troops in a MD11. He will fly into all airfields used by the US in the Golf Region. He will be on duty there for 10 days. The captain will notify you about details.
In Israel he flew the Bell 206, A-4, F-15-I, PA-18 Super Cup and Grob G-120AI.
The dogfight with the A-4 against the F-16 was unfortunately lost :-)))
I hope it is OK, that Baby is going again on a short tour.
(Attached a picture of Baby on an israeli F-15)

Many greetings ....
Matthias Dolderer

TANNHEIMER FLIEGER- UND
FREIZEITZENTRUM G M B H
Flugplatz
D-88459 Tannheim

email: info@flugplatz-tannheim.de
Internet: www.flugplatz-tannheim.de
---
Info dated 17.01.2003 - Tigerbaby with the Desert Ducks
----- Original Message -----
From: "raosborne" <raosborne@.....
To: <info@flugplatz-tannheim.de>
Sent: Friday, January 17, 2003 5:57 AM
Subject: Re: Baby

Tiger Baby went to a Carrier- the Valley Forge- and Kuwait- but- On a Helicopter!!!!

Just back- more later-

Richard
Info dated 21.01.2003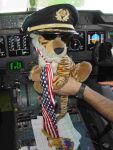 Tiger Baby seems to be enjoying himself so far:

Went to BIG Birthday party for my friend - 80 years! Ex Eastern Airlines Captain, -Boeing Test Pilot, -RCAF (Hurricanes!), -Lysander- Yep! He is lucky to be alive!!!
Anyway! I will send you a couple of photo's to assure you Tiger Baby is OK for now- I have temporarily allowed him to go with another friend- who has a PBY Catalina- and Tiger wanted to got with him to the airshow- After the show they flew to Richards Field ( a small grass airfield where I own a lot) and did TWO low passes- REAL NICE- now Tiger Baby wants to go with him ( Charlie Clemments) on his Delta Airline trip to Kuwait- I think Tiger Baby wants to check on any changes since he was there last week- or- perhaps he thinks he might run into the Lady Pilot with the Desert Ducks again!
Anyway- he returns again next week- and by then I hope to have the Lake Amphib flying again. Tiger Baby did seem to like the short flight in the Citabria- even though I kept it blus side up! Later,

Richard Osborne
---
Message, dated 24.01.2003
Tiger Baby continues in Florida with a side trip to Kuwait while the temperatures turn cold in Florida ( 2C last night and frost in some places). Tiger Baby returns to do some seaplane flying in the Lake Amphib!
Tiger Baby left Munich on January 6 commercial on Lufthansa to LHR- then on Gulf Air to Bahrain. Tiger Baby rode in the cockpit of both aircraft and the log book entries are made.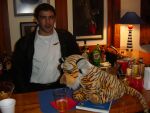 "BABY" enjoyed a good dinner and cool beverages before going on his first trip around the US bases in the Gulf. He made lights out operations at several places and met many of the troops onboard. At Masirah Island, he met with the airfield ops personnel, got some current charts (which really helped operations) and left his paw print! Onboard were volunteers from the Outback Steakhouse who were enrooted to Kandahar to serve steak dinners to the US troops there. Really good people! Tiger especially liked the Girls. In fact- He really liked my Flight Attendants too (the girls only!) We then got involved in the Shamal Winds. These cold northwest winds pushing onto the moist gulf shore caused dense ground fog which developed quickly and inspite of a VFR forecast, our next to last destination went WOXOF in 20 minutes before we arrived overhead. "Tiger Baby" helped coordinate a divert to Bahrain and did a lot of passenger interaction while the situation was sorted out. Then we went to the hotel!
"Tiger Baby" spent the week touring Bahrain- looking at archeological sites and visiting the National Museum. He was able to observe current excavations and was present when a "Typo's Period" grave was uncovered and pottery and human remains were discovered. Wow!
"Tiger Baby" was invited to accompany the Desert Ducks on a support mission to the US Navy in the Gulf and landed in an H-3 Helicopter on the "Valley Forge"- and then on to Kuwait before returning to Bahrain. We enjoyed a very good dinner at Trader Vic's the last night there. We again flew the "Masirah Shuffle" and met the Outback Volunteers returning to the US- They had a very satisfying experience- and were glad to be returning home. Also on board were members of the US Army 101st Airborne- Enroute to Afghanistan- again! Great People!
"Tiger Baby" and I chose to remain onboard the aircraft to Frankfort- and Baltimore then catching Air Train through Tampa to Miami so that we could attend the 80th. Birthday Party for Captain Richard Neubauer. Dick was an RCAF Hurricane pilot in the early days of WW-2 and as a 19 year old considered himself in the most exciting time of his life - and also - very lucky to have survived it. He went on to be a contract DC-4 Captain for SAS- then on to Boeing in flight test on the B-47- then - on to Eastern Airlines where he retired off the L-1011 in 1983. I met Dick, and his son Rick - when I was a pilot for Eastern. Great people- Great Times.

Well! Tiger Baby had a VERY good Drunk-out at the party- and still managed to be attended to by the prettiest women at the party- see: Suzanne and the Tiger!
Next day- "Baby" flew in Charley Clemments PBY "Black Cat - Catalina" and made 2 low passes over Richard's Airfield! GREAT!!!!!
"Tiger "asked to accompany Charley on his Delta Air Lines trip to Kuwait this week!--He is sure to be well treated before return ing to fly the Lake Amphibian.

Best regards,

Richard Osborne
Captain,World Airways
Temporary official guardian of "Tiger Baby"
---
Mail from Stefan on May 29 2003 to the Webmaster - end of the journey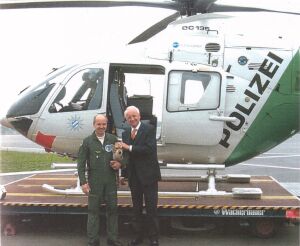 Servus Claus!
Since yersterday our tramp is back to Lechfeld and in very good health. He had a spectacular Landing which rounded up his journey. At 12:10 Z he was winched down from an EC-135 of the Bavarian Helicopter Squad.
His logbook testifies from a teriffic trip: October 16 2002 he went with a Grob to Israel. There he had flights on a Bell 206, A-4 Skyhawk, F-15I and came back with an Airbus to Munich. January 03 2003 he went to Bahrain to the 777th Expeditionary Airlift Squadron, until he was handed forward, after several flights together with Richard Osborne on a MD-11, via Bahrain and Oman, to the Desert Ducks. With them he landed in a H-3 on a carrier. After that he flew again with Richard Osborne, had a short stopover at Frankfurt and was to many other airports (OBBI, OOTH, ODMS, OBBI, KBWI, KTPA, KMIA - wherever this all was?). Then several flights on a waterplane. Then End of February with the US Navy on a C-2A onto the USS Constellation.
From Miami to Sizilly and the with a car to EDDM (Memmingen). From the Bavarian Police Heli Squad adopted with great pleasure, he flew 23 sorties on the EC-135 in 8 days by day and night over Bavaria.
One day prior his return he accompanied our Bavarian Minister President Dr. Edmund Stoiber on a VIP tour (see picture). Just on time for the departure to the tigermeet 2003 in Cambrai, France, he arrived in the Squdron.