Tigermarkings - Tigerjet 46+44 von 2001
---
2001 - 18.Juni Rollout der 46+44.
Erfahren Sie mehr unter: 321 Tiger 2001 Special - Metamorphose eines grauen ECR.
Im Januar 2003 findet dieser bisher spektakulärste Tiger-Jet der 321 Tigers sein Tiger-Aussehen-Ende. Im Rahmen einer Depotinspektion bei der EADS in Manching wird er wieder zurück lackiert in das übliche graue Aussehen.
---

2001 - June 18 - Rollout of 46+44.
Read more about it: 321 Tiger 2001 Special - Metamorphosis of a grey ECR.
January 2003, this so far most spectacular Tiger Design of the 321 Tigers finds it's tiger-end in the course of a depot maintenance with EADS in Manching.

---
46+44 für/for FS 2004: (Download 2.8 MB)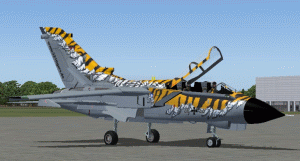 (Dank an Sebastian Hecker)